In MMMM…(Macro/Micro Music Massage), we, the public, are invited to join in the process of sonic performance for cells in culture. Please engage your living unfamiliar relatives. Here is your chance to massage various living tissues or organisms without getting your hands dirty. We, as fleshy flasks of living culture, are also invited to become part of the experiment by vocally vibrating each other's rear ends at the same time.


Two ButtVibe lounge recliners are placed facing each other on opposite sides of a room. The chairs massage according to sound output miked from the vocalizations of the person in the opposite chair. This can include voice and instruments/noisemakers. The same signals are sent to neighboring vibrating plate speakers applied to various lifeforms. The organisms will bounce, splash, stretch, bear down and/or jump to attention in response to the audio source. Please Feel Free to Sit Down and Talk to the Living Specimens!


Video of reclining volunteers and their life-world mirrors dancing on biopolymers is projected above and behind the volunteers. This functions as a closed circuit and very local vibro-videophone for talking to various kinds of strangers. We have here a real time, multimedia, multi-species erotic continuum of sonic jostling. We also have the ability to record a certifiable non-repeatable effect through bioassay of public play. Please record any data you might have amassed during your research in the communal lab books provided.




Philosophy of Science Purpose:
If our research into the effects of sonic spectrum vibrations are progressing so neatly, why then is the next stage of this project an interactive public event? MMMM… is an artistic experiment. No hard data is expected to arise. This in no way limits potential insights into the natural world that might stem from MMMM... Most artistic products, if shaken well, exude scientific data as a by-product. Unfortunately, there are often strong and contentious reactions to cross-disciplinary activities. It is almost as if breadth itself were a kind of blight on the stability of taxonomy. If labels and classifications are more than mythic, faith based logics of the day, then they shouldn't have such a phobic reaction the birth of hybrid concepts and complex admixtures. With a little grant money, this too can be reduced to its fundaments.
Tame All Anomalies!

Artistic Purpose: I am a rather insular little maniac. I know how important it is that interactivity be interactive and not some uni-dimensional point/click act of avoidance. Dialogical artworks are important diffusers of the unsporting voyeurism of which both scientific objectivity and artistic appreciation are prone to. This bodily bi-directional communication is both remote and deeply interpersonal. It should remind us of our corporeal fleshiness and, by proxy, our relation to all the squiggly things that squiggle upon the earth. As a libertine in the days of deadly STDs, this is perhaps a reflection of the traumas of libidinal economizing for personal survival. The vibratory arts are highly underrated due to fears of lost productivity.
Viva Tactility!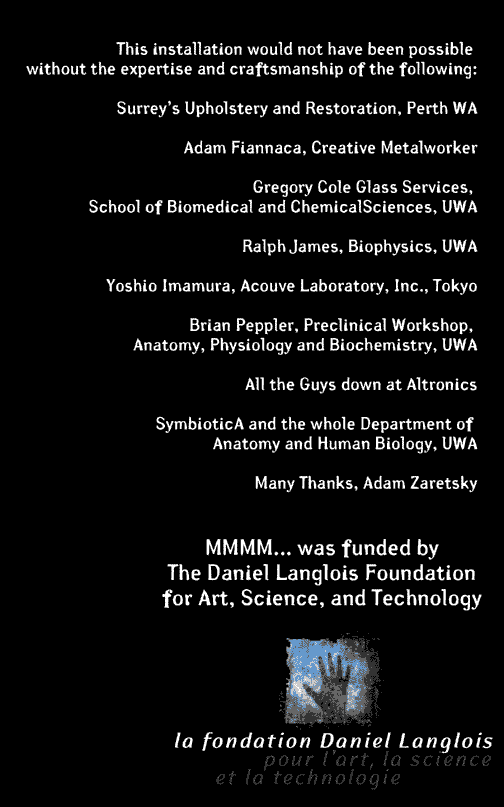 Ý

Home / Viva Vivo! / Workhorse Zoo / Transplant Sculpting / Aesthetics, Mutation, Ethics and Heredity / Microinjection Erotism / HGP Prophecy / MMMM... / Commencement for Teens